Abstract:—— Sidelights on Global Promotion Activities of Henan Province by the Ministry of Foreign Affairs
Open Henan Takes on a New Look and Shocks Beijing in Flowering Season
In order to carry out President Xi Jinping's keynote speech at the opening ceremony of Boao Forum for Asia (BFA) Annual Conference 2018, and make Henan open wider to the outside world, the Ministry of Foreign Affairs held the 12th promotion event presenting Chinese provinces under the theme of "China in the New Era: Global Partnership, Wonderful Henan" at the Blue Hall of the Ministry on April 13, 2018 to share with the world Henan stories in the new era. State Councilor and Foreign Minister Wang Yi attended the event and delivered a speech. Secretary of Henan Provincial Committee of the Communist Party of China Wang Guosheng addressed the event, and Governor of the People's Government of Henan Province Chen Runer gave the presentation.
"We applaud the brilliant achievements and development of Henan province, and we are willing to provide opportunities to jointly build a better Henan."
Luan Shan, reporter from Henandaily
Fascinating Cultural Inheritance
Azman Aliya, a journalist from Malaysia's National News Agency, arrived at the scene early in the afternoon. She took pictures in front of the flourishing flower wall composed of 9999 peonies and tasted a small cup of Xinyang Maojian tea in Yucha exhibition area. "I am quite familiar with the history and culture of Henan, but I have never been to this province which is considered the birthplace of Chinese civilization." Azman Aliya was attracted by Henan through those charming photos, and said that she would visit Henan recently.
The guests are mostly familiar with its profound history and splendid culture, the world-famous Shaolin Kungfu, the graceful peony and the magnificent Yuntai Mountain, but know little about the astroid-type high-speed railway network in Henan, the expressway connecting all counties and cities, and that one seventh of smartphones in the world are made in Henan.
"Ancient Henan culture has been injected new vigor and vitality, and it's becoming ever more fascinating." said Oleg Jiaoming, ambassador of Ukraine to China.
Enlarging " Circle of Friends "
Henan connects with the world throughthe Silk Road, the Air Silk Road and the Online Silk Road, and has formed a "four-in-one" logistics channel system of sea, land, air, and network, becoming an important transfer station at the junction of the "Belt and Road". Standing in Henan cross-border e-commerce exhibition area, Icelandic Ambassador to China Gunnar Snorri Gunnnarsson used the word "surprise" to describe his feeling after visiting. "I am very interested in the Air Silk Road from Zhengzhou to Luxembourg and hope to cooperate with Henan on air logistics."
Henan is an open and vigorous province, so that Gunnar Snorri Gunnnarsson has found an opportunity of cooperation from one exhibition stand. In fact, Henan is sharing such opportunities with the world. At present, Henan has established trade connections with over 200 countries and regions in the world, concluded 112 pairs of international friendly city relations with 47 countries, and 127 Fortune Global 500 companies have settled down in Henan.
Marc Hübsch, Ambassador of Luxembourg to China, who has been paying close attention to the development in Henan, commented that Henan has become more and more closely connected with the world and is more and more frequently involved in exchanges, and that its circle of friends is increasingly enlarged.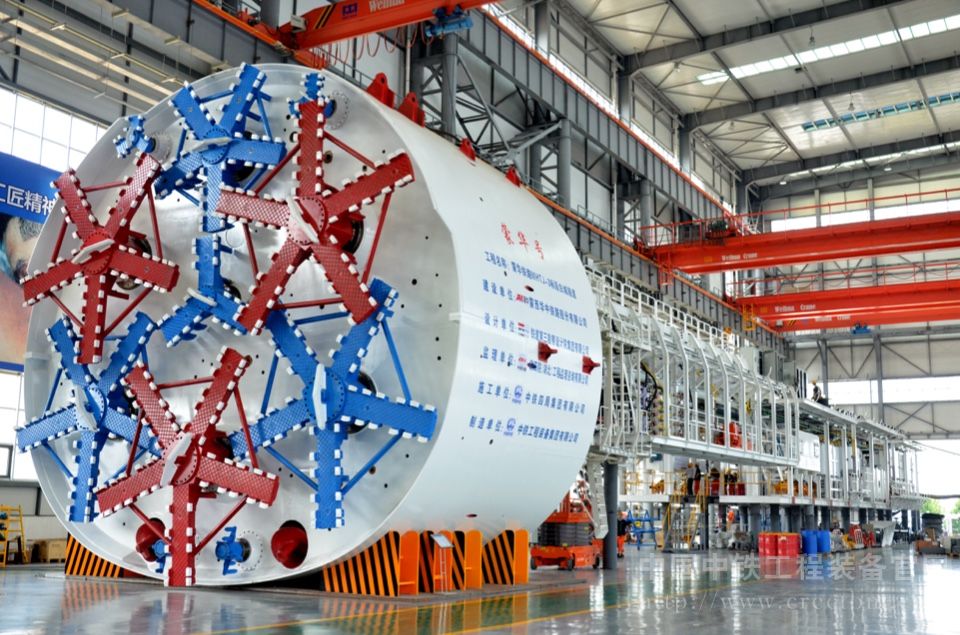 The world's first Horseshoe-shaped EBP TBM
Open to You
"Whether it's technology or business model, it's impossible to work behind closed doors in this era." said Zhang Zhiguo, deputy general manager of China Railway Engineering Equipment Group(CREG). CREG represents the most vigorous innovative force in Henan Province. The first rectangular TBM and horseshoe-shaped TBM developed by CREG are not only the sharp weapon of China's infrastructure market, but also the "new favorite" of the world's underground space and tunnel construction. Guests from all over the world are visiting CREG for cooperation. "I'm looking forward to more exchanges and cooperation between Made in Chile and Made in Henan, and hope that we can jointly develop a larger international market." Said Jaime Chomali, ambassador of Chile to China.
In the new era, Henan will strive to create a first-class environment for business and development, promote high-quality development and win the advantages of development with high-level openness. Henan will always open its door following China's deepening reform and opening up under the "Belt and Road" framework. Welcome to Henan!