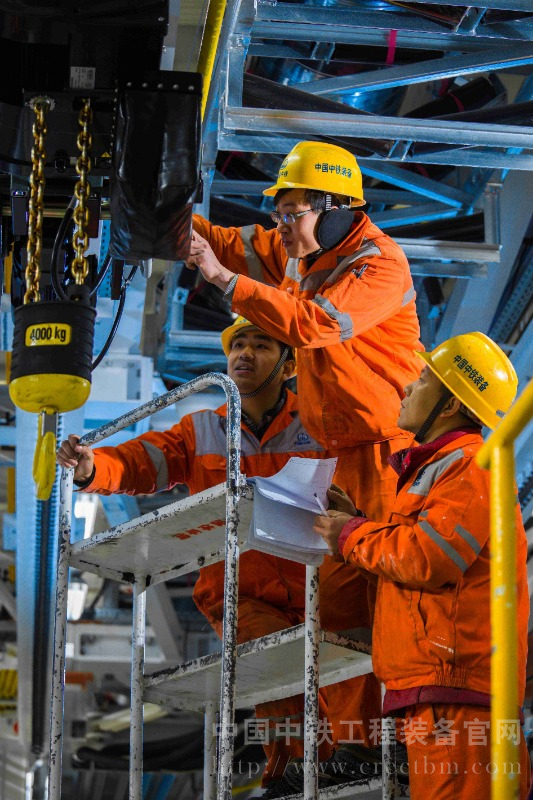 Workers from China Railway Engineering Equipment Group Co Ltd's plant in Zhengzhou, Henan province, check a part of a tunnel boring machine in January 2020. The equipment is scheduled to be exported.

The company will enhance localization strategy and accelerate development of overseas operations over the next five years.
There is something in common about projects like the West Gate tunnel in Melbourne, the tunneling work for the Red Line of Tel Aviv's light rail service, the Sydhavn Metro Line's extension space in Copenhagen and the drainage tunnel project in Doha.
All of the tunnel boring machines were built by China Railway Engineering Equipment Group Co Ltd, one of the country's major underground solutions providers by sales revenue.
With many countries adding financial resources to build big-ticket infrastructure projects to cast off the impact caused by the COVID-19 pandemic, CREG, the Zhengzhou, Henan province-based provider of mechanized tunneling technology and services, will focus on supplying advanced TBMs to developed markets to reinforce China's role in the world's supply chain during the 14th Five-Year Plan period (2021-25).
TBMs are used to excavate tunnels, subway tubes and sewer lines. Compared with traditional tunnel boring methods like drill and blasting for manual excavation, the use of such giant TBMs could minimize the impact on the surroundings and produce a smooth tunnel wall, helping certain tunnel projects manage unstable geologic conditions.
CREG shipped two earth pressure balance TBMs for the construction of a 12.8-kilometer tunnel of the Naples-Bari High-Speed Railway in early September. The machines will arrive in Italy by the end of this year.
With diameters of 12.5 meters and 12.2 meters, respectively, the TBMs will be the largest ones exported from China to Europe. They are expected to start boring work in the European country in the first quarter of 2022.
Zhao Hua, president of CREG, said a number of opportunities were seen both at home and abroad, especially in economies participating in the Belt and Road Initiative, amid growing demand for special construction machinery and tunnel boring equipment.
Many new foreign orders for upgrading and renewal of infrastructure facilities were also inked along with subway projects, water conservation and underground crossings.
"TBMs are used to support railway and highway projects. They are getting larger as tunnels become wider to integrate utilities such as water supply and drainage pipes, telecommunication and power cables," Zhao said.
The official added that the company, a subsidiary of State-owned China Railway Group Ltd, will enhance its localization strategy and accelerate development of overseas operations to build core competitiveness between 2021 and 2025.
The Chinese firm successfully completed the boring work for a road tunnel under the Swina River, connecting the islands of Uznam and Wolin on the Baltic Sea, in early September. The tunnel is 1,780 meters long and CREG's TBM drilled 1,483 meters of the new road under the river, shortening the commute time from 40 minutes by ferry to 4 minutes by vehicles in the future.
The tunnel features a crown overburden of about 26 meters and a minimum horizontal turning radius of 300 meters. The tunnel alignment crosses fine sand and fine-medium sand with gravel in the Uznam and Wolin sides. Below the Swina strait are deposits of fine-medium sand with gravel.
With a diameter of 13.46 meters, the customized machine extends approximately 105 meters and weighs over 2,700 metric tons. To better cope with the geology, targeted designs such as a cutterhead structure with a big opening ratio, a pipe extension system with zero slurry spillage, and a special articulation design for ease of steering and cutterhead retraction are applied on the TBM.
Once the tunnel project is completed, it will provide a direct connection between Uznam and the Polish mainland. The journey time will be reduced to just a few minutes, and the mainland's connection to Polish holiday areas in West Pomerania will be significantly improved, Zhao said.
Currently, transportation is provided by ferry crossings. Such a service has a fairly limited capacity and is dependent on weather conditions.
In France, a TBM manufactured and supplied by CREG broke through at Aulnay station in mid-August for the metro tunnel project of Line 16 of the Grand Paris Express Lot 2.
The Grand Paris Express is part of the Grand Paris project announced in 2007 to develop Greater Paris into a sustainable metropolitan area. For Line 16 of Grand Paris Express Lot 2, the TBM bored a section totaling 11.1 km in length and this was excavated by two 9.86-meter diameter TBMs supplied by CREG.
As the first ever and only Chinese TBM manufacturer in the French market, CREG has ensured the progress of both projects and construction safety, Zhao said. Since its launch on April 7, the first TBM has successfully overcome many challenges such as umbilical launch in a small space, and its peak daily advance is able to reach 28 meters with stable performance.
Supported by more than 3,000 employees, including 500 designers to design and manufacture TBMs and associated equipment, the company has exported TBMs to 26 countries and regions, including Malaysia, Singapore, India and the Middle East.
To compete with established global rivals, CREG is integrating big data technology and a cloud computing center for smart and remote control of TBMs in both tunneling and services, thus transforming itself from an equipment manufacturer into a complete underground solutions provider.
The world's recovery from the COVID-19 pandemic, especially in tourism and other service sectors, will create growth momentum for infrastructure in the post-pandemic era, said Zhao Ying, a researcher at the Beijing-based Institute of Industrial Economics, which is affiliated with the Chinese Academy of Social Sciences.
This would also help the medium and long-term development visions of many countries, such as the United Arab Emirates, Saudi Arabia and the Philippines, or spur national strategies to put their economic growth on a firmer footing via transportation-related infrastructure projects, expos, utility and service facilities, as well as hospitals and educational institutions.
"Therefore, the world's demand for TBMs will remain stable as many economies are seeking to create jobs and stimulate trade flows via big-ticket transportation, smart city and other infrastructure projects, which certainly require tunnels," the researcher said, adding projects like urban subways and railways that traverse mountains or waterways usually require the technical support of TBMs.
To better support China's dual-circulation development paradigm, a strategy featuring domestic and overseas markets reinforcing each other with the domestic market as the mainstay, CREG will continue to deploy resources and manpower to seize greater market share in the Beijing-Tianjin-Hebei region, the Yangtze River Delta region and the Guangdong-Hong Kong-Macao Greater Bay Area from 2021 to 2025, said the company.
For the original article, please visit https://global.chinadaily.com.cn/a/202110/18/WS616ccba1a310cdd39bc6f797.html